MP-2B Grinding and Polishing Machine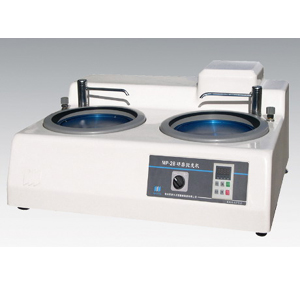 Introduction
Specification
Accessories
Standard
LEAFLET & VIDEO
Contact Us
MP-2B Grinding & polishing machine is an double disc stepless timing table type machine, suitable to grind and polish the metallographic sample, with a rotate speed range 50-1000rpm, it's a necesary equipment for sample preparation.

Equipped with cooling system, then avoid sample heating to destroy the metallographic structure. Left disc is pre-grind and grind disc, right disc is polish disc. It can not only light grind, rough grind, precision grind, but also precision polish.
Grinding Disc diameter

φ230mm

Polishing Disc diameter

φ200mm

Sand paper diameter

φ200mm

Rotate speed

50-1000r/min

Power

220V, 50HZ

Dimensions

690×715×310 mm

Weight

45Kg

Digital display the rotate speed.
Pressure-sensitive adhesive cloth (φ200mm)
Metallographic abrasive paper(φ200mm)
Polishing disc (φ200mm)
Grinding disc (φ200mm)
Clamping ring(φ200mm)
Inlet water pipe
Outlet water pipe
Sealing ring
Instruction manual
Packing list
Certificate

No information