CAG200 contact angle tester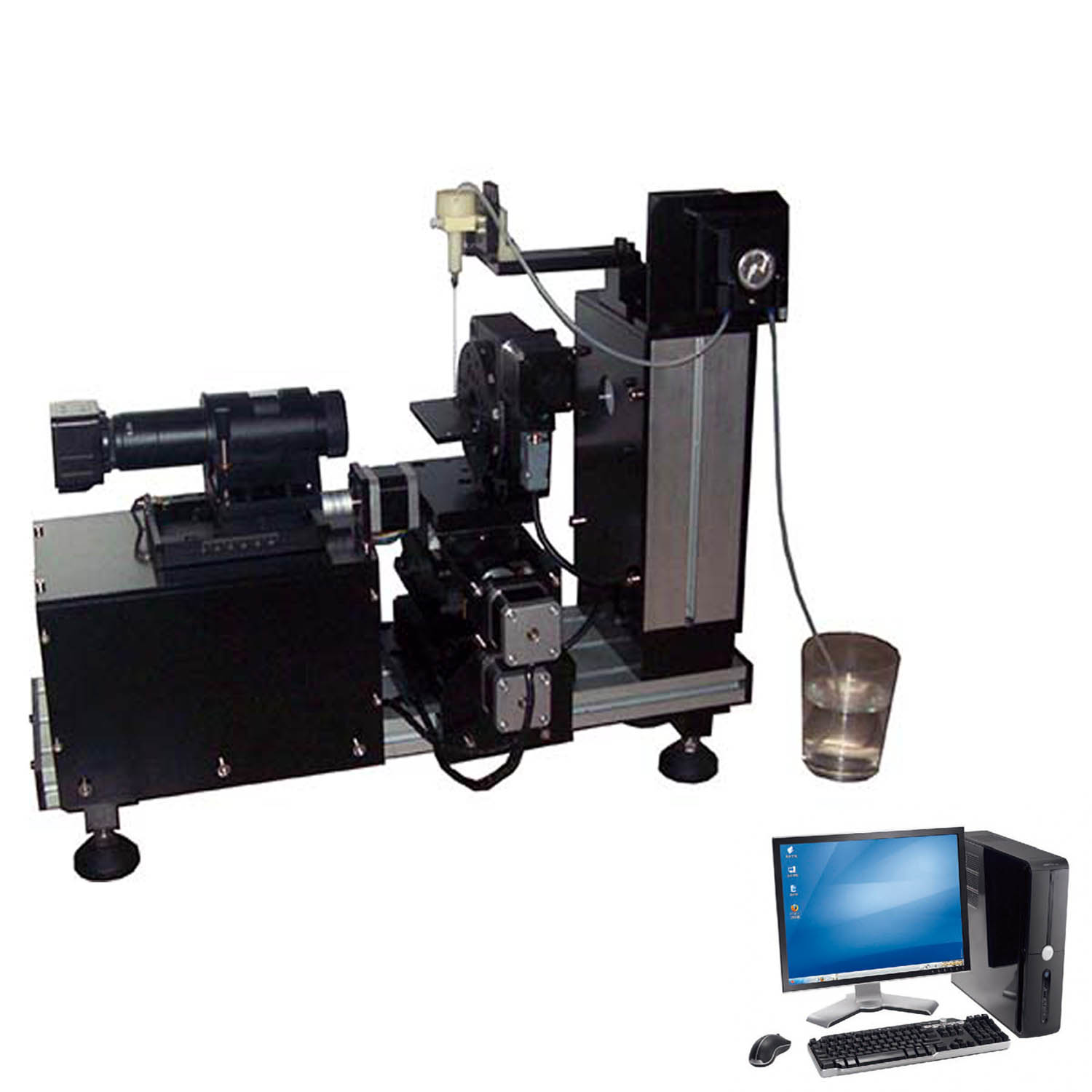 Introduction
Specification
Accessories
Standard
LEAFLET & VIDEO
Contact Us
Contact angle meters (also known as optical tensiometers or goniometers) allow direct measurements of surface tension, interfacial tension and contact angles. Contact angle is an extremely versatile technique used for characterization of both liquids and solids.

Feature: CAG200 is senior model, with 360 degree working table, automatic sample feeding system, more test method, Sessile drop, Solid surface energy, pendant drop, Rotate falling, Insert method etc.,
The Contact Angle Meter (optical tensiometer) is an ideal industrial or academic tool for product development engineers, R & D engineers who need precision and repeatability. Contact angle measurement combines high technology test instrumentation and a non-destructive testing method to allow an accurate, objective and repeatable analysis to be made. Using the contact angle meter you can compare the effects of a range of surface treatments and gather data that correlates to various surface conditions e.g. lubricity, wettability, surface energy etc.
UnitedTest CAG series contact angle measuring equipment captures drop images and automatically analyses the drop shape as a function of time. The drop shape is function of surface tension of liquid, gravity and the density difference between sample liquid and surrounding medium. On a solid the liquid forms a drop with a contact angle that also depends on the solid's surface free energy. The captured image is analysed with a drop profile fitting method in order to determine contact angle and surface tension.

Application:
Contact angle meters and tensiometers are used in a wide range of fields including industrial R&D, quality control and academic research. Specifically, these fields include the chemical industry, electronics, energy, food, oil industry, paper & packing, biomedical and other type of advanced materials engineering, and pharmaceuticals and any area where surface properties and wettability are important. The applications have been divided based on industry, measurement principle, and phenomenon to measure.

Other name:
Contact angle meters, optical tensiometer, goniometer, contact angle tester, contact angle measuring equipment.
Model
CAG100
CAG200
Measuring methods
Sessile drop,
Solid surface energy,
pendant drop
Sessile drop,
Solid surface energy,
pendant drop,
Rotate falling,
Insert method (optional)
Analysis methods

θ/2, height measuring, automatic analysis (θ/2), automatic analysis (two base points)

Image shooting method

Single shot, continuous interval shot, continuous shot

Contact angle measuring range

0<θ<180°

Measuring resolution

0.01°

Measuring accuracy

0.1°

Solid surface energy

Owens with 2 liquids

Sample size

120*80mm

Sample max. height

30mm

Two-dimensional table adjusting range
Up and down 0-60mm, accuracy 0.01mm
Left and right 0-60mm, accuracy 0.01mm
One-dimensional table adjusting range

Front and back 0-60mm, accuracy 0.01mm

Sample feeding mode
Sample injector
1), 100 microlitre, 2 microlitre
2), 10 microlitre, 0.2 microlitre
Sample injector adjusting range

13mm, accuracy 0.005mm

Sample injector screw knob adjusting range:
0-50mm, adopt high accuracy manual screw rod,
ensure liquid feeding stable and accurate.
Power

220V, 50Hz/ 110V, 60HZ

Automatic sample feeding
(standard for CAG200, optional for CAG100)
Software control peristaltic pump, 0.1-50 circle per min. , control time can be free setting.
peristaltic pump flow rate accuracy: 0.0002ml/min.
Min. liquid volume: 0.2uml (Optional for CAG100)
Automatic rotary table
(standard for CAG200, optional for CAG100)
360° Manual/Automatic rotary table, software adjust rotate speed 0.01-50Rpm;
(Do dynamic contact angle test, internatial allow speed is 0.3Rpm, more slower is better. Slow rotate speed can make the reslut more accuracy.
Can used to measure dynamic contact angle (advanced angle, receding angle, rolling angle). (Optional for CAG100)
Weight

50Kg

Dimension

500*350*400mm
Item
Quantity

Frame

1 set

3 million pixel digital camera

1 pc

Zoom lens

1 pc

Three-dimensional table

1 set

Light source

1 pc

Sample injector

1 set

Computer

1 set

English software

1 set

360 degree Manual/Automatic rotate table (optional)

1 set

Peristaltic pump (optional)

1 set

Documents (Manual, packing list, certificate)
ASTM D7334 Standard Practice for Surface Wettability of Coatings, Substrates and Pigments by Advancing Contact Angle Measurement;

ASTM D7490 Standard Test Method for Measurement of the Surface Tension of Solid Coatings, Substrates and Pigments using Contact Angle Measurements;

ASTM D5946 Standard Test Method for Corona-Treated Polymer Films Using Water Contact Angle Measurements;

ASTM C813 Standard Test Method for Hydrophobic Contamination on Glass by Contact Angle Measurement;

ASTM G205 Standard Guide for Determining Corrosivity of Crude Oils;
ISO 15989 Plastics -- Film and sheeting -- Measurement of water-contact angle of corona-treated films;

ISO 27448 Fine ceramics (advanced ceramics, advanced technical ceramics) -- Test method for self-cleaning performance of semiconducting photocatalytic materials -- Measurement of water contact angle;