Metal Wire Reverse Bend Testing Machine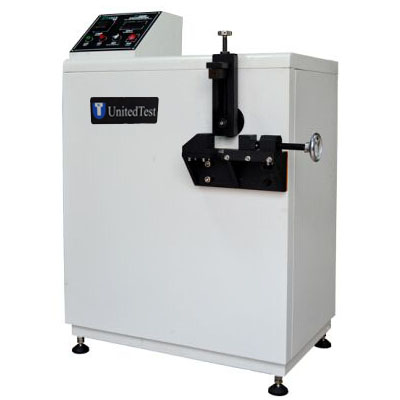 Introduction
Specification
Accessories
Standard
LEAFLET & VIDEO
Contact Us
JWJ series metallic materials wire reverse bend testing machine manly used to measure metal wire material, like steel wire, steel bar, steel wire rope, steel strand, nude electrical wire, copper alloy wire etc., rotate the provision radius jaws ±90 degree repeat the reverse bending test; standard machine for 3-10mm (15mm) diameter wire samples, add suitable device, can do 0.3 to 3mm wire.

Also can be used to do sheet plate repeating bending test.

Conform with standard ISO 7801, Metallic materials -- Wire -- Reverse bend test.
GOST 1579: Wire. Methods of testing for bending

Other name: metal wire reverse bend test machine, steel reverse bend testing equipment.



Model
JWJ-10
JWJ-15
Bending diameter
3-10mm


(0.3-3mm, need extra jaws)

3-15mm


(0.3-3mm, need extra jaws)

Sample length

300mm

Bending degree

±90º

Bending speed

Less than 60 times/min.

Torsion angle Min. reading

0.1º

Power

1.1kw, 380V, 50HZ, 3 phase

3kw, 380V, 50HZ, 3 phase

Dimensions

700*460*1150mm

Weight

260Kg

280Kg
Mainframe,
Moving guide rail,
Deceleration motor,
Display system,
Jaws (Jaw base radius 10, 15, 20, 25),
Operation manual,
Certificate,
Packing list
ISO 7801: Metallic materials -- Wire -- Reverse bend test.
GOST 1579: Wire. Methods of testing for bending